I haven't written a blog for so long I thought I'd become allergic or developed a phobia, but it turns out I was just a bit frightened.
So far this year I am mainly reading UK YA debuts as I am judging the 2014 Branford Boase Award. I am over halfway through the nominated books, and have found some new authors to love in the process. Have a look at the
longlist
.
Dave Shelton
who won the year before me with his wonderful book,
A Boy and a Bear in a Boat
(which was also shortlisted for the Carnegie and Costa that year) has been giving me tips about how to approach the judging process. (The one that I especially listened to is not to read all the books in a stupidly short period of time.)
So he can share more of his niblets of wisdom with you, he has agreed to be interviewed here, about writing and judging books and what it is like to be an illustrator - and a person as well. So, watch out for that. And if you have any questions for him, tweet me or post in the comments below. In the meantime, have a look at his
blog
, it's really lovely.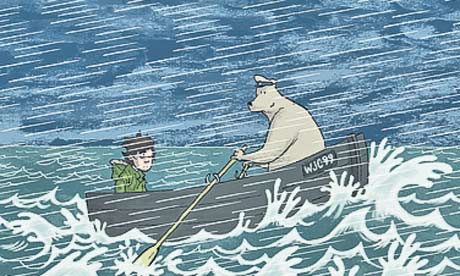 A boy and a bear in a boat.
The other thing I have do A LOT is work on Book Two, which I have announced so many titles for that I swear from here on to refer to only as Book Two until the thing is finished. It is taking me a long time, and I've written hundreds of thousands of words - many of which will not even be in the book - but then that's the joys of being a writer. Right?
Don't worry though, it's going to be
extremely
good, and
you
, especially, will really love it.
Infinite Sky has been shortlisted for two more prizes this year: the Angus Book Award and the We Read Prize, so keep your fingers crossed that it wins if you like me, and also please keep your fingers crossed that it wins if you don't like me. Just as a nice favour.
Also this year, I am returning to Hull of which I am now informally and forever the Queen since winning a book prize there last year (I think that is what they said the prize was). Thus, I will be hosting the James Reckitt Hull Children's Book Award there this year, and I am really excited to return, and pass on the glory - though not the crown, there is only one informal Queen of Hull - to the next winner.
Dreamy Hawthornden Castle
Finally, I have been awarded a Hawthornden Castle Fellowship for September, and plan to work on a novel for adults in my time there, as well as camping in the surrounding wildlands. I am a lucky lucky thing.
So that's everything, I think. What have you been up to? How do you feel today? Leave me a comment, and make me happy...